@@@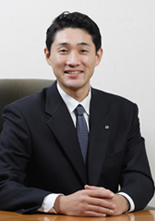 Representative Director and President/Yoshikazu Kimura
Aircraft, trains, automobiles and other modes of transport are becoming faster, more diversified and comfortable, in effect making the world a smaller place. Likewise, there are now networks that make it possible for information to reach the other side of the globe in an instant. Meanwhile, useful products to enrich the home environment are being conceived one after another.
It is our valued customers who are responsible for creating these value-added products and components. Our mission is to provide support in the measurement, inspection and production facility realms through the creation of measuring instruments and precision machine parts.
Customers of Dai-ichi Sokuhan Works Co. are distinguished and outstanding organizations who regard quality to be of the utmost importance. They are active on a global scale, working to increase awareness of their products. The gauges that we have been producing since our establishment are what we place as the core product responsible for delivering our customer's quality to each and every end-user.

With environmental change nowadays, there is even greater demand for products that are sympathetic to the environment, such as those that are energy saving or production efficient. In response to these demands, we apply our gauge technology to the creation of products that can measure with high precision, greater efficiency, and also with positioning functions. Praise such as "I'm so pleased to have bought that", "Glad we used it" and "It has increased our orders", is what unites our employees as we advance forward.